Employee Spotlight is a blog series meant to offer an inside look at our company culture and, most importantly, highlight the talented individuals who help make our company so special. From accountants and software implementation specialists to operations, marketing, and HR professionals, get to know the people behind Chazin & Company.  
Today, we are getting to know Kelly Crook, one of our talented Senior Accountants. Kelly is based out of New York and has been with Chazin & Company since 2021. Let's learn more about her:
1. What's your role at Chazin & Company?
I am a senior accountant with five very different nonprofit clients.  
2. What's the most rewarding part about your job?
Meeting and working with a wide range of people who are trying to make the world a better place.
3. What do you enjoy doing in your free time?
I enjoy camping, traveling, POUND fitness class, watching my daughter play basketball/stepson play football, and an occasional Netflix binge!
4. What's your favorite volunteer activity?
Organizing the annual teams for the Cancer Walk and Diabetes Ride because these diseases directly impact my family. But by far my favorite is volunteering at the free after-school program they have in the city near us. The children are incredible and are so appreciative of the time and attention you give them as most do not get that daily.  
5. Please share any exciting news or a fun fact about yourself:
Fun fact about me is I have a saying, "If there's no ocean, it's not a vacation." I love the Caribbean, the beaches, the ocean, the different cultures, etc. The picture below is from our most recent trip to the Dominican Republic of my children parasailing. I bought a ticket for myself and rode on the boat but was too chicken to do it, maybe next time. 😊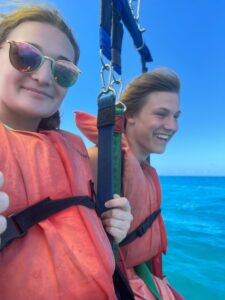 Thank you, Kelly! Would you like to be part of the Chazin & Company team? Check out our careers page for current opportunities and don't forget to check back next month for a new Employee Spotlight.