As a fully remote company, our recent company retreat in Nashville, Tennessee, was a momentous occasion that brought us together in person for the first time. After countless virtual meetings on Teams and Zoom, it was refreshing to meet face-to-face and experience a different side of our team dynamics. Nashville, often considered a second home to our company and Founder and CEO Adele Chazin, provided the perfect backdrop for our memorable retreat. 
Our First Day: Bringing the Team Together 
With team members arriving from various corners of the country, including North Carolina, Ohio, Georgia, Maryland, Virginia, Missouri, Florida, and even Washington state, the excitement was palpable. We couldn't help but joke about the irony of being a fully remote team finally meeting in person. To kick off the retreat, we gathered at Saint Anejo for a festive dinner filled with delicious nachos, quesadillas, steak and chicken tacos, and, of course, margaritas! Our company-provided goodie bags were a thoughtful touch that added to the evening's enjoyment. 
Our Second Day: Making a Difference and Building Bonds
We started the second day by engaging in a meaningful volunteer experience at Soles4Souls, a nonprofit organization dedicated to providing shoes to those in need worldwide. Sorting and distributing shoes alongside the organization's managers gave us a deeper appreciation for their impactful work. This experience not only left us with a sense of accomplishment but also allowed us to connect with one another on a more personal level.
Following our volunteering event, we headed to Martin's BBQ, located in the heart of Nashville, for a mouth-watering company lunch. Laughter filled the air as we savored the flavors of pulled pork and brisket and shared memorable moments. Little did we know, our day was far from over.
After lunch, we embarked on a team-building adventure at Imagine Recordings. Witnessing recording artists like Paul McDonald and On The Outside in action, creating music from scratch, was a mesmerizing experience. Grammy-winning music producer Steve Fishell generously shared his insights into the world of music production and recording, leaving us inspired and amazed.
Final Night: A Celebration of Togetherness
To conclude both the day and our retreat, we returned to downtown Nashville for our plus one dinner at the renowned Wildhorse Saloon. As we introduced our significant others and shared stories, the dance floor beckoned us to unleash our inner cowboys and cowgirls. Line dancing and a contagious honky-tonk atmosphere allowed us to let loose and create lasting memories. It was the perfect way to end our retreat on a high note.
Acknowledgements and Anticipation:
We would like to extend a heartfelt shoutout to Alli Rex, our Human Resources Generalist, for her exceptional coordination in planning the entire trip. Additionally, we express our gratitude to Adele Chazin, our President & CEO, for her gracious hosting of this extraordinary event. With great anticipation, we eagerly await our next retreat, knowing it will further strengthen the bonds within our team.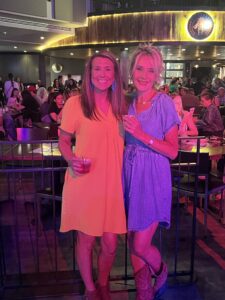 Our company retreat in Nashville was a truly unforgettable experience. It allowed us to transcend the virtual world and foster genuine connections with our colleagues. From lively meals and impactful volunteer work to witnessing the creative process of recording artists and dancing the night away, every moment brought us closer together as a team. We returned from Nashville feeling reinvigorated, inspired, and more connected than ever before. The memories we made will continue to resonate within us, reminding us of the incredible team we have and the bright future that lies ahead