Employee Spotlight is a blog series meant to offer an inside look at our company culture and, most importantly, highlight the talented individuals who help make our company so special. From accountants and software implementation specialists to operations, marketing, and HR professionals, get to know the people behind Chazin & Company.  
Today, we are getting to know Mary Beth Ippich, one of our talented Software Implementation Specialists. Mary Beth is based out of New York and has been with Chazin & Company since 2021. Let's learn more about her:
1. What's your role at Chazin & Company?
I work on the Systems and Implementation Support Team as a Software Implementation Specialist. 
2. What's the most rewarding part about your job?
Helping others achieve their goals and also making their work-life easier.
3. What do you enjoy doing in your free time?
I like to hang out with my family, take pictures, crochet, and play guitar/ukulele and piano.
4. What's your favorite volunteer activity?
Girl Scouts – I am a Troop Leader of 9 girls from 1st to 3rd grade. I love to show them different experiences around nature, art, and science. We have toured the Parthenon in Nashville; gone horseback riding; hiked across a rope bridge; the kids made their own pottery using a potter's wheel; we went tent camping over a weekend; we saw the Globetrotters; attended an Opera; went to a major league soccer game; created our very own scenic watercolor canvas; went on a birding expedition; and went fishing! One of the girls caught a fish and it was the first time for many of the kids to see one! They wanted to "pet" it. HA HA.
5. Please share any exciting news or a fun fact about yourself:
I come from a close, large family; I am one of 8 (#6 in pecking order). My Dad has 29 grandkids with 13 great grandchildren and 3 more on the way! Most of my siblings are in the Buffalo area except the youngest is in Chicago. Three of my sisters and my father live on my grandfather's property, which we call "the compound." My husband and I were fortunate to be able to purchase the neighboring lot, expanding the compound. Over Memorial Day weekend we moved up north to be back with family. My husband Steve and I have been together since 2001 and we have two daughters, 11 and 9. We also have two boxers that come from a champion bloodline. Our youngest male was supposed to be a show dog and, although he has a great physique, he is the laziest dog I have ever owned, making him one of my favorites. 😊 Oh, and of course, Go Bills!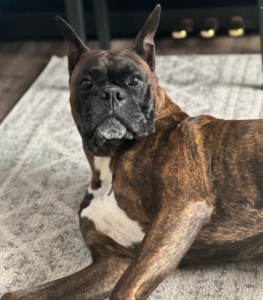 Thank you, Mary Beth! Would you like to be part of the Chazin & Company team? Check out our careers page for current opportunities and don't forget to check back next month for a new Employee Spotlight.