Employee Spotlight is a blog series meant to offer an inside look at our company culture and, most importantly, highlight the talented individuals who help make our company special. From accountants and software implementation specialists to operations, marketing, and HR professionals, get to know the people behind Chazin & Company.  
Today, we are getting to know Brandie, one our talented Controllers. Brandie is based out of Iowa and has been with Chazin & Company since 2022. Let's learn more about her:
1. What's your role at Chazin & Company?
I am one of the delightful Controllers at Chazin & Company. In my role I empower and deliver exceptional accounting services to my nonprofit clients. I provide support, oversight, training, and leadership to my clients. I also collaborate with the team and clients regarding grant management, audit, tax, year-end, internal controls, efficiency, and overall guidance.
2. What's the most rewarding part about your job?
 I enjoy getting to know my clients and helping them improve their experience with Chazin.
3. What do you enjoy doing in your free time?
I like golfing, spending time with my kids, and spending time around any sort of body of water, preferably at a beach.  
4. What's your favorite volunteer activity?
I am on a couple of nonprofit boards, which fills my need to give back, but my favorite volunteer activity is participating in nonprofit golf tournaments and outings.
5. Please share any exciting news or a fun fact about yourself:
We recently added a new family member to our home. His name is Stanley, and he is a Belgian Malinois. He is one of two dogs in our bunch; the other is Steven, a 10-year old Vizsla. Stanley comes from a tough-as-nails breed, but I believe he did not get the memo. He has a large blanket that he suckles on when he goes to bed each night. He is our sweet big ol' baby.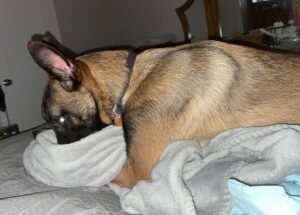 Thank you, Brandie! Would you like to be part of the Chazin & Company team? Check out our careers page for current opportunities and don't forget to check back next month for a new Employee Spotlight.