Employee Spotlight is a blog series meant to offer an inside look at our company culture and, most importantly, highlight the talented individuals who help make our company special. From accountants and software implementation specialists to operations, marketing, and HR professionals, get to know the people behind Chazin & Company.  
Today, we are getting to know Kathleen Wright, our talented Technical Services Manager. Kathleen is based out of North Carolina and has been with Chazin & Company since 2021. Let's learn more about her:
1. What's your role at Chazin & Company?
I am the Technical Support Manager at Chazin & Company. In this role I lead a team of systems implementation and accounting professionals who are responsible for onboarding new clients onto Chazin's tech stack, implementing new systems for existing clients, and providing systems support for the firm. My team and I are the subject matter experts for third-party software used to deliver services to our NFP Smart Start clients.
2. What's the most rewarding part about your job?
The most rewarding part of my job is implementing best-in-class technology solutions for our new and existing clients. This includes implementing third-party software applications that enable our clients to move from paper-based/people driven activities to systemic solutions that streamline and automate their workflow and approval processes. As a self-described "data geek" I especially enjoy leveraging technology to translate our clients' financial data into reports, KPIs (key performance indicators) and graphs that enhance their decision-making and oversight of assets.
3. What do you enjoy doing in your free time?
My favorites things to do are reading, hiking, and spending time with my family.
4. What's your favorite volunteer activity?
I have always enjoyed working with children. Volunteering as "Clerk of Course" during the summer swim season, acting as Team Mom for my son's JV high school football team, and working at the concession stand during Friday night home games. Since my son graduated high school during the onset of COVID in 2020, I haven't had the same opportunities to give back to my community as I once did. I am always exploring organizations to determine where I can donate my time.
5. Please share any exciting news or a fun fact about yourself:
Chances are that if you've had a Teams meeting with me, you've heard my office mates -- Kobe, a Mini Bernedoodle and Finn, a Teacup Teddy Bear. I've worked remotely since 2004. My dogs keep me company, force me to take an occasional break to walk them, and help me keep things in perspective.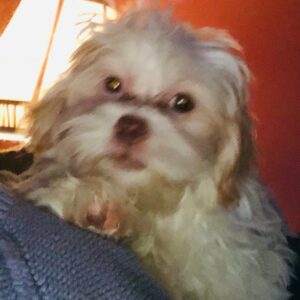 Thank you, Kathleen! Would you like to be part of the Chazin & Company team? Check out our careers page for current opportunities and don't forget to check back next month for a new Employee Spotlight.